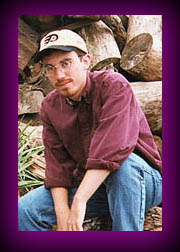 What about me? I'm glad you asked.....
My name is Brian Stevenson, and ever since I was a little kid, I wanted to be Zantog, the Supreme and Ultimate Ruler of the Cosmos. However, once I started taking the medication, I decided on a career in the commercial arts field.
I'm not your typical starving-college student-artist-type-person. I eat on a regular basis. I really like bacon sandwiches. So I guess that means I'm just a college student-artist-type- person. Except after I graduate, when I'll just be an artist-type-person, who has experience in a variety of both Macintosh and IBM graphic programs, like CorelDraw, Adobe Illustrator, and Adobe Photoshop.
I received this experience at Tampa Technical Institute, where I spent two years giving them money for a 4.0 grade point average. Wait, that doesn't sound right. Oh well, you know what I mean. My head hurts.
Anyway...